RESTORING . EDUCATING. EMPOWERING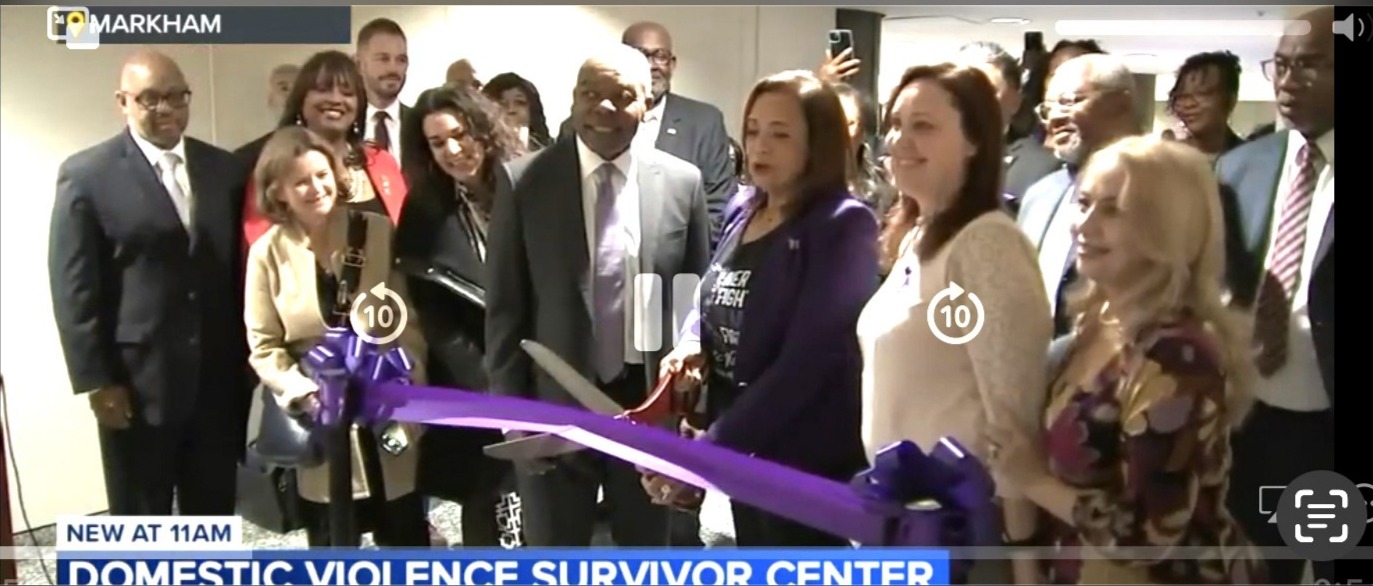 COOK COUNTY DOMESTIC VIOLENCE SURVIVOR CENTER OPENS IN MRKHAM, IL.
Ribbon cutting ceremony. Front row fourth from left to right, Clerk of the Circuit Court of Cook County, Iris Martinez. Far right, Maribel Garcia, founder of Break the Silence Foundation, Inc. October 18, 2023
A Special Note of Thanks to our Supporters
Our Purple Gala was a great success. We at Break the Silence Foundation are so grateful. We are only able to continue making a difference because of our supporters.
By providing a secure, violence-free environment to all program participants, Break the Silence Foundation supports survivors of domestic violence through crisis intervention, advocacy, self-improvement, workshops on healthy relationships, self-defense, and workforce development. Our goal is to help survivors heal, become informed, and self-sufficient so they can break the cycle of domestic violence.
We would like to thank all who have donated their time and talent to help spread the word that BTSF is here to help survivors end the cycle of domestic violence.

We would also like to thank the many survivors who shared their stories. You are not only survivors but also advocates for others who may be suffering in silence.

Together, we can raise our voices to Break the Silence and assist our survivors in ending the cycle of domestic violence.
The Educational and Research Foundation for the American Academy of Facial Plastic and Reconstructive Surgery (AAFPRS Foundation) has been implementing FACE TO FACE: The National Domestic Violence Project since 1994 to offer individuals who have been affected by domestic violence the hope of wholeness by treating the facial injuries. For more than two decades, AAFPRS members have been volunteering to help victims of domestic abuse who cannot afford to receive treatment for facial injuries. These efforts have helped to repair both physical and psychological scars and to help individuals regain self-esteem and begin to rebuild their lives.
The AAFPRS Foundation is pleased to partner with Break the Silence Foundation (BTSF) in this endeavor. Break the Silence Foundation, founded in 2005, is a 501(c)(3) organization whose mission is to work with domestic violence victims and their families, through crisis intervention, advocacy, self-improvement, healthy relationship workshops, self-defense and workforce development.


Some signs of domestic violence are more obvious than others. Here are a few common signs. Does your intimate partner ever:
Accuse you of cheating and being disloyal?

Make you feel worthless?

Hurt you by hitting, choking or kicking you?

Intimidate and threaten to hurt you or someone you love?

Threaten to hurt themselves if they don't get what they want?

Try to control what you do and who you see?

Isolate you from your family and friends?

Pressure or force you into unwanted sex?

Control your access to money?

Stalk you, including calling you constantly or following you?
If you recognize these signs of domestic violence and suspect that you or someone you know is in an abusive relationship, you are not alone; there is help in your community.

A Penny For a Life Campaign
A Penny For a Life Campaign
We ask that you make a commitment to support our "A Penny for a Life" ™ humanitarian project fundraiser. This year our goal is $ 100,000.00, to fund our many programs to assist domestic violence victims. We hope that you will be able to contribute a minimum of 1% or one dollar of your gross receipts. You may elect to run this campaign for 6 months or for a full year. Your contribution will help fund our programs throughout the year. Your business will be featured on our website, print and social media. As a sponsor, you will be recognized also at our next Purple Gala in October 2022.
Your Home for Domestic Violence Resources
Everyone deserves to live the best version of their lives. However, it's an unfortunate reality that domestic violence inhibits many people in our communities from leading a safe and rewarding lifestyle. Here at BTSF, we are ready to live up to our name and break the silence regarding this topic. Our team of compassionate individuals is here to support victims of domestic violence and help them escape any negativity in their lives. If you're a victim of domestic abuse or know someone in an abusive situation, contact us now for a range of domestic violence resources.
In 2005, Maribel Garcia founded Break the Silence Foundation, Inc. (BTSF) as a 501(c)(3) organization with offices in Berwyn, IL. We offer support for domestic violence victims in the forms of crisis intervention, advocacy, self-improvement, healthy relationship workshops, self-defense, and workforce development. We provide a safe, violence-free environment and support to all program participants. In partnership with Family Bridges USA, our participants attend a series of workshops designed to help each participant end the cycle of abuse.
Break the Silence Foundation has partnered with One Warm Coat to provide coats for the underprivileged. One Warm Coat is a National non-profit organization that provides free coats to children and adults in need.
Thank you for your interest. We look forward to hearing from you soon.
Hours of Operation
Call for an Appointment
EMAIL :
info@btsfinc.org

Service Area
Berwyn, Illinois, and the Surrounding Areas

Address
6635 W. Cermak Road
Berwyn, IL 60402

Call now for compassion and support.
(773) 780-0065